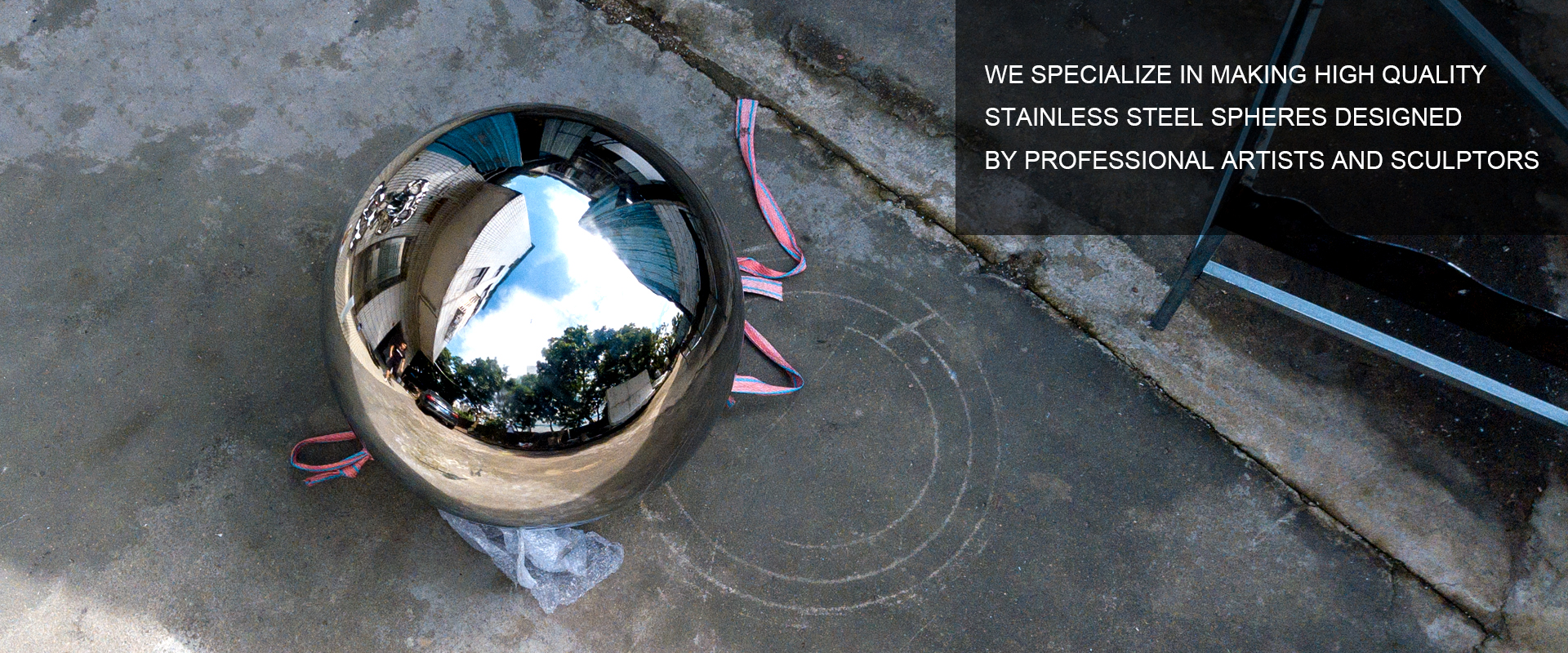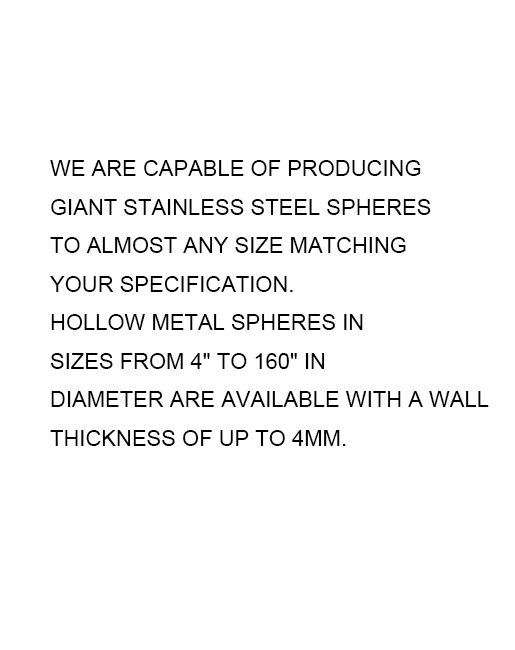 we capable of producing metal Balls to almost any size meet your specification. hollow steel balls in diameter from 19mm to 5000mm in diameter are available with a wall thickness from 0.6mm to 6mm
We can supply AIS 304 / 316 stainless steel hollow steel balls. Production method: mould pressing and water pressure
Water Pressuring :
is welding steel sheet with man-hand. Our technicians will calculate the specific data for the welding sheet,then bending the leaf shape, our qualify workers will weld asimilar spherical cube shape. and then forming a perfect spherical balls with perfect water pressure. Finally we'll grind the welding seam and mirror polishing it.
mould pressing:
is shape steel sheet by deforming it with a mould. then welded two steel hemispheres together and grinding the welding seams. finally mirror polishing the hollow steel balls. we can make from5mm to 500MM.Thickness available from0.6mm to 6mm. we offer drilling and tapping service according to your demand.Invisible welding seams.
None Standard mould limit,Any size can be made.
Spinning(thickest steel balls option)
Firstly we spinning two steel hemispheres, then welding together, finally grinding the welding seams and mirror polishing it. this is the thickest steel ball choice
could make stainless steel sphere following customers' pictures, designs, sizes. we could also make customized designs and size. its more suitable to decorate the places with modern style, including outdoor garden, plaza, shopping mall and hotel decoration.
large steel balls features a high quality mirror polished finish. The high reflective surface will bring you tons of visual impact for your garden or public art design.made from durable AISI304 grade stainless steel alloy.We can also offer these hollow steel balls in an #316 stainless steel alloy if your project calls for a material with a higher resistance to corrosion for ocean beach projects. These large steel balls are perfect for Architectural and landscape design projects or use in public Garden Art Metal Balls.
we Our spheres and sculptures are made to suit your design specifications.
We can fabricate a range of sizes and polishes so your sphere or sculpture can be tailored to your design needs.
Our patented process has a superior quality finish, which creates a seamless appearance.
Any of our products can be shipped globally so wherever you need it to be, we can get it there.
Contact us
 today to arrange consultation.
Custom Made to Your Specification
custom stainless steel ball can be fabricated with a wall thickness from 1mm up to 4mm in thickness. Spheres are constructed from durable #304 grade stainless steel. We can also offer these giant steel balls in an AISI #316 stainless steel alloy if your project calls for a material with a higher resistance to corrosion for outdoor installation in marine environments and coastal areas.
Large Sizes to 7′ Foot Diameter
The largest available sphere diameter that can be shipped by conventional freight is 7 feet which can be ordered by contacting us
for quote. Larger sizes can be produced, though special shipping options are required. Custom fabrication of virtually any size
sphere is possible. Large hollow metal spheres bring a stunning visual impact to outdoor public art installations as well as
residential garden decoration.
Stunning Mirror Polish Finish
Our giant reflective stainless steel globes feature a high quality mirror polished finish. The mirrored surface provides a unique optical effect and brings an ultra modern touch to your landscaping design, sculptures, exhibits and architectural installations.
Water Features – Custom Mounting
If you have a project that requires a stainless steel sphere for use as a water feature in a fountain, the custom fabrication of a water feature option for metal spheres is possible. A support post and base plate can be added for mounting the sphere in the water fountain basin.
Laser Cut Stainless Steel Spheres
We can laser-cut intricate designs and patterns into the stainless steel spheres.It is also possible to fabricate spheres with a perforated surface or custom hole pattern.
Custom Sandblasting
Continents can be added to create a stainless steel world globe. Sandblasting of your logo or other artwork on the outer surface of the stainless spheres is also possible. The entire surface of the sphere can be sandblasted to a matte finish ready for powder coating.
Brushed Stainless Steel Hollow Balls
Brushed stainless steel hollow balls is stamped stainless steel sheet by deforming it with a standard punching mould. then welded two stainless steel hemispheres together and grinding the welding seams. finally brushed the steel balls. Finish:Mirror polish,Mill finish,Brush,Electroplating,sandblasting,etching,Silk printing.
Mild Steel Spheres
Giant steel balls can be fabricated from mild steel. These plain steel spheres have a smooth unfinished surface. All welds are ground smooth. Steel spheres are ideal if you plan to paint them or just want to let the sphere naturally rust.
Stainless Steel Shapes & Sculptures
It is also possible to fabricate unique stainless steel shapes such as water drops or cobblestones,Golf ball,combined ball ,Egg shape ,
If you don't see the perfect piece for your space don't hesitate to contact us about your project. We will work with you to create a design solution that will meet the needs of your space.